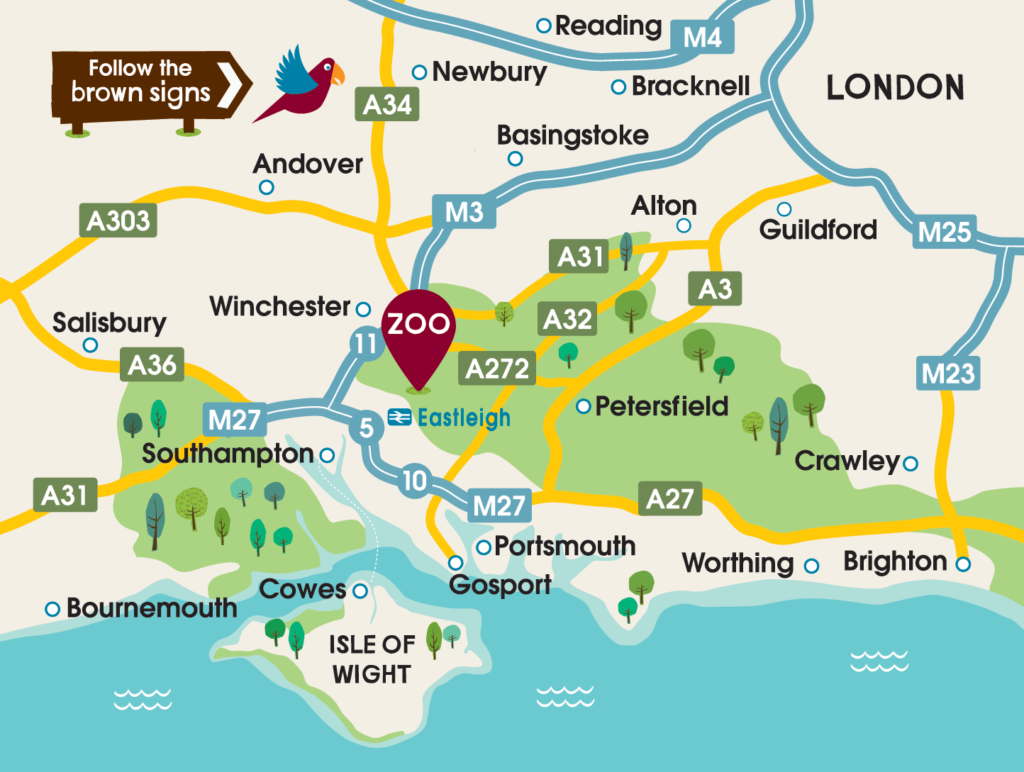 Get closer to the wonders of the natural world at Marwell Zoo
With plenty of outdoor space, and a whole host of animals and activities, Marwell Zoo is a great family day out in Hampshire. All guests must prebook tickets online for the correct day before arrival.
100s of animals – with giraffes, tigers, leopards, meerkats, penguins and more
140-acre park & 5 adventure playgrounds
Animal feeds*, cafés & gift shop
You'll need 4 hours if it's your first visit. Get our app or see what's at Marwell to make the most of your day. *Subject to availability
Marwell is easy to find – 8 miles from Winchester, 5 from Eastleigh and 12 from Southampton. Our postcode is SO21 1JH.
Ticket Prices
We're a charity. By donating and gift aiding your admission today, you'll be supporting our conservation work. Thank you!
£25.00
£21.00
£22.50
Studentwith a valid student card
£22.50
£66.00
£46.00
£56.00
Studentwith a valid student card
£56.00
£22.48
£18.88
£20.23
Studentwith a valid student card
£20.23
Staff very polite and helpful
Wanted more interaction with the animals but still had a great day. Kids were ve…
Fantastic family day out
We love Marwell, we are members and I find it amazing value for money and it's…
Trusted customer – 7 hours ago
Fantastic day
Fantastic day as usual. Wonderful grounds to walk around. Excited to see new add…
Excellent as usual
Value for money, great experience and excellent facilities for animals and visit…
A fun-filled day out.
My grandson loves to visit the zoo. Last time, the ostrich eggs still hadn't h…
very well run park
Excellent well laid out wildlife park with great professional employees
Trusted customer – 17 hours ago
We loved visiting the zoo.but more could be in place for disabled visits
While we enjoyed our tri we were disappointed at the lack of nappy changing area…
Great day out
Excellent day out for all age ranges. Facilities were clean and staff were frie…
We all had a fantastic day. Thank you Marwell
We all had a wonderful day, the Lego dinosaurs were amazing. The zoo was very cl…
Great day out
Another great day at a wonderful place!
All staff very knowledgeable,welcoming and very friendly
From start to finish staff were very knowledgable,welcoming and friendly nothing…
Trusted customer – 1 day ago
Fun filled zoo with added extras. Animals, Lego dinosaurs, great family day
Marwell is always a fun filled day out. Animals galore and Lego dinosaurs. Great…
Very enjoyable
One of the best zoos we have visited. Spent approximately 6 hours wondering arou…
Wonderful relaxing place to visit
Had a lovely enjoyable day at the zoo.Everywhere very clean and tidy. Had lunch …
Wonderful wildlife experience!
Absolutely beautiful, such a wonderful experience seeing the animals in a delig…