At Marwell, we are constantly updating areas around the park to ensure our standard of animal welfare remains at a high standard, and so that you also have a great experience as a guest.
Over the next few years, you'll see exciting changes around the park which we will continue to keep you updated on.
See what we're currently working on below. For more in-depth updates and articles, check out our Zoo News page.
Last updated: 16.11.2023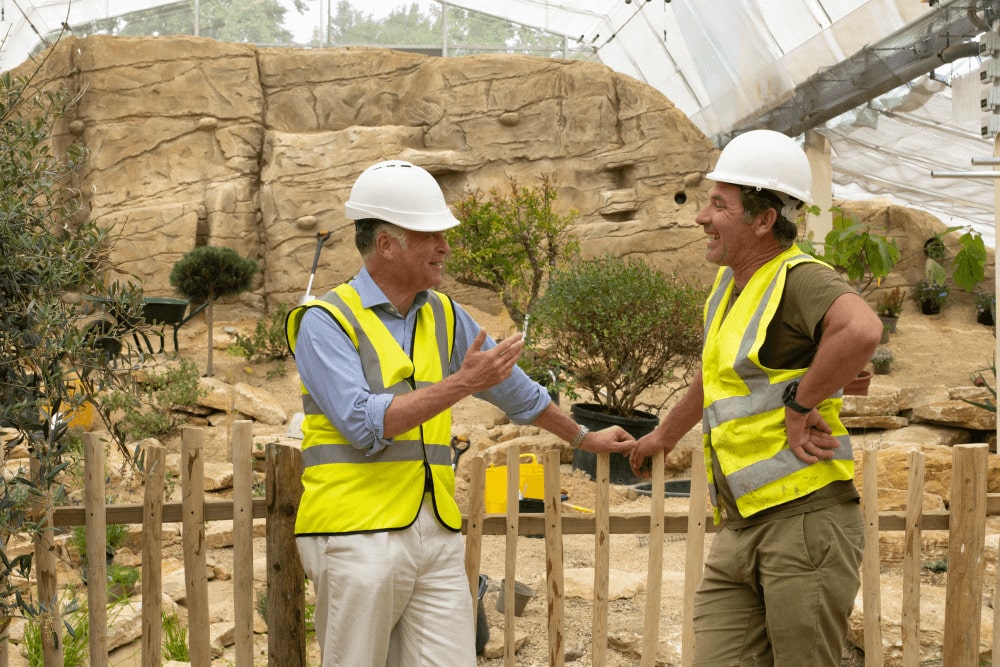 Animals will remain on show while works are being carried out unless stated otherwise.
Ongoing:
Cold-blooded Corner – From 16 October, our Egyptian tortoises will be behind the scenes due to essential maintenance being carried out in their habitat.
Lower walkthrough aviary – From Monday 30 October, our lower walkthrough aviary will be closed for essential repair works. The birds will still be viewable from their indoor area.
Snow leopard habitat – We're currently expanding our snow leopard habitat, which, in time, will house more snow leopards. There is a long-term plan to breed them when allowed to by the European breeding coordinator.
Completed:
Cold-blooded corner – Developments to the prehensile-tailed skink, snake-necked turtle, and green tree monitor habitats.
Thriving Through Nature – Now open! Our upcycled and revamped old tropical house home to some exciting new species.
Tamarin viewing – This new mixed area will allow guests to see golden lion tamarins, pygmy marmosets and Brazilian guinea pigs all in one space.
Tiger habitat – Our teams carried out essential maintenance works to the tiger's territory. Their pond waterfall has been repaired to allow flowing water for the tigers to rest and cool in. This also adds natural noises to reduce external sounds and make their environment more complex.
Bokiboky viewing – A previously off-show area has been opened for guest viewing. The climbing structures you can now see in this area provide a positive life experience by allowing climbing opportunities as well as foraging. Also, improvements such as updating heating and lighting provisions allows the team to mimic their natural environment.
Kirks dikdik viewing – A new viewing window into their previously off-show area is giving guests a behind-the-scenes look at their indoor habitat.
Hippo house – Essential maintenance and roof repairs. The team took out the fence that splits the paddock and replaced it with natural materials.
Giraffe outdoor area – Previously a gated off-show area, the team introduced natural materials such as rocks to create a natural barrier between the animals and guests, to allow a more interactive up-close experience.
Red-tailed laughing thrush aviary – The bird's team recently reviewed the red-tailed laughing thrush's environment. They made a series of changes which included adding additional materials to give better nesting support. As a result, two eggs were successfully incubated, and the chicks hatched at the end of May!
Ongoing:
Glow Marwell – Glow Marwell 2023 is coming! Read more.

From October 16 to November 23, we'll be preparing for our exciting Glow Marwell event, so the zoo may look a little different as you make your way around.
Completed:
Thriving Through Nature – Essential maintenance to guest paths completed.
Thriving Through Nature – Now open! Our upcycled and revamped old tropical house home to some exciting new species.
Fur, feather and scales playground – Now open! A new and improved accessible playground has been installed made mainly from recycled materials, the equipment is designed for children 2 years and over.
Wildflower areas – We're encouraging native wildlife to thrive with wildflower areas dotted around the zoo. If you spot one, take a closer look and count how many native species you can see! Please take care at these areas.