Get the most out of your Glow Marwell visit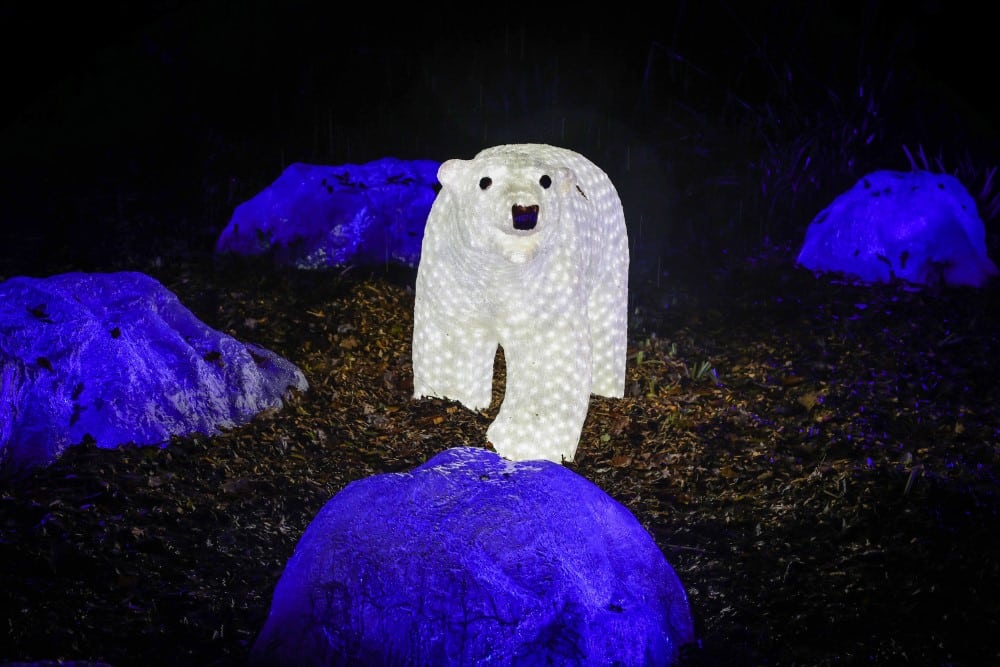 This article was written for our 2022 Glow Marwell event. For information about our 2023 Glow Marwell event, please see our Christmas page.
With our Glow Marwell event now in full swing, we thought it would be useful to share our top ten tips for having a magical evening if you're planning on paying us a visit.
We're sure everyone will have a great time at our first-ever after-dark light event, but if you want to make sure you're getting the most out of your night, we've got you!
If you'd like to visit the zoo during the afternoon of your Glow visit, please be aware that you'll need separate zoo admission and Glow Marwell tickets and that you will need to leave the zoo at 4pm and return for your timed Glow slot.
Our Glow Marwell route is 1.7km long and will take around 90 minutes to complete at a leisurely pace.
Before you leave for the event:
Dress for the weather – we'd recommend warm layers, a clear umbrella for optimum light gazing in the rain, and walking shoes or wellies for the best sparkling puddle jumping.
Bring your appetite – as well as the festive offerings at Café Graze, our marshmallow toasting, donuts, crepes, and warm drinks will have your mouth watering!
Leave the scooters at home – Marwell is a no-scooting zone, and we'd hate your evening to start with upset little people.
Get ready to tap and go – we run a card-only attraction, so please bring a payment card if you want to buy anything during the event.  We are unable to accept cash.
Download the trail map – you can do this on our website or download the free Marwell app which also includes roaming act times on premium nights.
When you get here:
Upscale your Glow experience – the kaleidoscopes in our gift shop will allow you to experience our magical lights on a whole new level and keep the kids amused for hours!
Don't panic – we know planning ahead isn't always easy where the Great British weather is concerned.  If you're caught unawares, we have rain ponchos, woolly hats, and gloves in the gift shop too.
Don't be tempted to u-turn – our Glow route is designed as a one-way circuit with the lights angled to ensure safe walkways.  Please don't be tempted to double back on yourself as this may cause congestion and accidents.
Don't be late! – Please stick to your time slot and be aware that last admission onto the Glow route is at 7:30pm.
Keep children close by – please keep little ones in sight. Marwell might be a familiar place to them by daylight, but things look very different at night, and we want everyone to have a great time.
Finally, a reminder that the lights in our Glow Marwell event have been carefully designed to minimise disturbance to our animals. We're asking all guests not to use white light flash photography or bring any light-up items into the park.