Annual Zoo Membership at Marwell
Become a member of Marwell Wildlife and enjoy unlimited entry to the zoo plus a whole host of other benefits.
We aim to process all membership orders within four days. Once processed we will email you your membership numbers so you can pre-book your visit.
If you actually intend to visit within the next week, we strongly recommend that you purchase day tickets instead and then visit the membership cabin to upgrade to full membership. Please do not purchase a membership online and then purchase day tickets for your visit – we will not be able to refund them.
If you would like to upgrade your recent day visit to membership, please contact the membership team to find out how. Please note, we only deduct the price of a day ticket off the cost of membership. Any donation added to the day ticket purchase is not included.
If you are purchasing memberships as a gift, we will email you a virtual gift voucher that you can print at home to post or send direct to your recipients by email.
You can buy or renew memberships online here.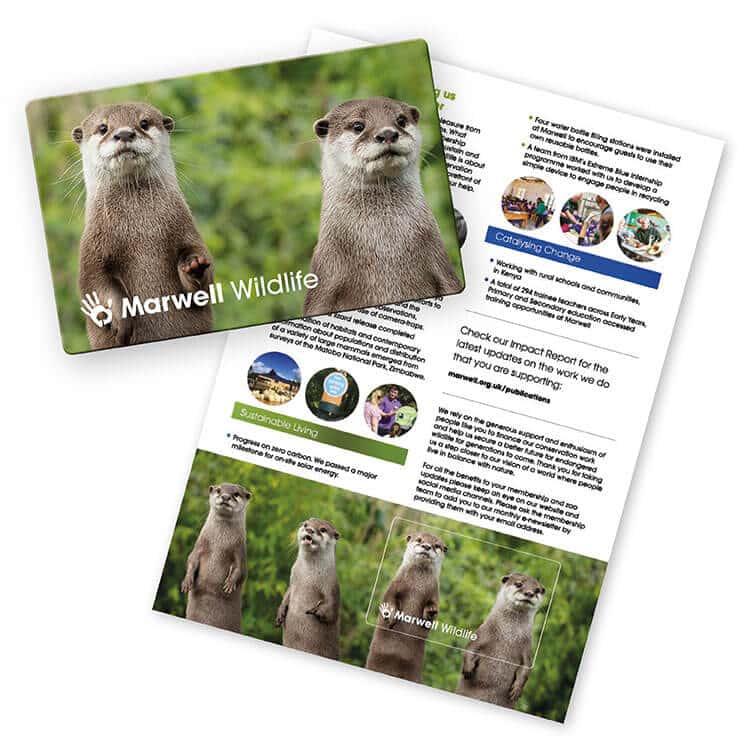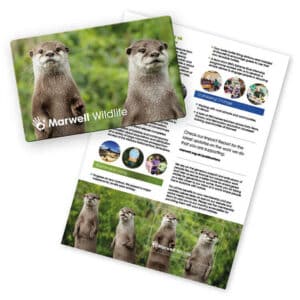 Enjoy these benefits when you receive an annual zoo membership:
Unlimited Entry to Marwell Zoo for one year!
Entry to a wide range of other zoos: Bristol, Chester, Colchester, Edinburgh, Highland Wildlife Park, Paignton, Newquay, Twycross and Rotterdam.  *One entry per year subject to their terms and conditions and a valid membership card. (Please contact each zoo to check their entry policy during Covid 19 restrictions before your visit.)
Discounts in our shop and cafes.
Fast track entry: With an annual zoo membership you can avoid queues by using the Member's gate during busy times of the year.
Wild Explorers Club: Annual zoo membership gives you access to the Wild Explorer club for junior members; including club meetings, a badge and lanyard pack full of information. (Currently suspended and will be reviewed in 2021.)
More time in the park: Members entry is up to one hour before zoo closing.
10% discount off the published admission price for up to six Friends & Family. (Currently suspended and will be reviewed once all Covid 19 restrictions are lifted and we are operating normally)
All benefits subject to change
Annual Zoo Membership prices
Annual zoo membership offers fantastic value for all ages – and don't forget that children under three always enter Marwell for free.
Marwell Zoo – Annual Member Prices



Membership Type
Price
Adult Membership


Aged 17 – 59 years

£64.00
Child Membership


Aged 3 – 16 years inclusive

£44.00
Infant


Aged 2 and under

Free
Concession


Senior 60+ or Student with valid Student Card.

£54.00
Note: Disabled members will be offered a free carer each visit, provided proof of disability is shown when purchasing or renewing membership.
How to Join (or buy a Gift Membership)
Joining us as an annual member is simple. You can buy online (for you or as a gift) today, email us or call our team on 01962 777960.
Become a "Wild Explorer"
We have created a trail for your young explorers to complete on their next visit to the zoo. Download a copy here or pick up a copy at our membership cabin.
All club meetings are currently postponed until further notice. Take a look at our free educational resources to keep you busy at home. All our printable support materials are linked to the national curriculum and are specifically designed for a variety of ages.
Activities to do at home
Play the games! The 'Decision game' may be better for slightly older children (7+yrs), but the 'Habitat game' can be played by everyone.
Don't miss the 'We Have the Power' tips and finish off with some crafty ideas – we'd love to see what you create so please share them with us by email.
Check out our Wild Explorer Club Christmas activities!
Information for Members
We have updated our FAQ's so please do read them to find out how to book your member slots and take a look at our updated Guest Guidance page.
All annual memberships were temporarily suspended while the zoo was closed during the national lockdowns and any lost time has been added automatically and they will scan at admissions – you do not need new membership cards to be printed.
We have extended all memberships for the time we've been closed this year plus a little extra to thank you for your support. The extra time will be added accordingly to your current expiry date.
Alternatively, if you would like to donate this "time" to the zoo, instead of an extension, we would be extremely grateful, and it will support the ongoing care of our animals. Please contact our membership team.
How can I support Marwell?
Please donate here to help us cover basic animal care costs such as feed and bedding. Purchasing through our Amazon Wish List is a great alternative to making a donation. This way, you can ensure your favourite animals benefit from your gift.
You can also renew as a Marwell member or buy membership as a gift, adopt an amazing animal or even start your own fundraising activity. Every penny adds up and so does our gratitude, so thank you for your loyal support – Marwell simply couldn't do what we do without you.
Marwell Bites
Browse the latest edition of Marwell Bites, for all the latest news.
Here we have answered the common questions about our Annual Zoo Membership – both before and after you've joined.
What date does a membership start from?
We aim to process all membership orders within four days. Once processed we will email you your membership numbers so you can pre-book your visit.
If you wish to visit within these four days, please purchase day tickets and you can upgrade to membership when you visit the zoo.
Can I purchase a membership as a gift?
Yes, a membership can be purchased on behalf of someone else. We will require the member's full name, date of birth and a full address including postcode. This can be processed over the telephone on 01962 777960, in person at the Membership Cabin or online.
We aim to process memberships within four days. We will email you a virtual gift voucher that you can print at home to post or send direct to your recipients by email.
On their first visit members will need to produce a copy of this voucher and adhere to any pre-booking requirements. They should visit the membership cabin where we will take their photo and produce their membership card there and then.
Please note that the membership will start from the day of purchase, or agreed start date, not the date the photograph is taken.
At what age does my child need a membership?
Children are allowed free entry into the zoo until they are three years old and as such they do not need a membership until this date.  We do not register or record their details until they reach the age of three.
Can friends and family members use my card to enter the zoo?
Unfortunately not. Memberships are sold on an individual basis and display your name and photograph. They are non-transferable and cannot be used by other individuals.
Do I have to have my photograph on my membership card?
Yes, all members will have a photograph on their membership card. The photograph will be taken at the Membership Cabin on the member's first visit and will avoid your card being used in error by another individual.
What if I have already paid for day entry and decide to become a member?
Just pop in and see us on your way out with your admission receipt/booking reference and we will deduct your admission (excluding donation) off the membership price on a like for like basis. This can also be done later, within 14 days of your visit, by contacting the membership team with your reference number or with an application form by post.
I have accessibility needs, do I get a discount on membership if I need a carer?
Members with accessibility needs who require a carer can have an un-named carer added to their membership card for free. This will mean that any adult accompanying the member will be allowed access to the Zoo free of charge as the member's carer.
The confirmation required is sight of a letter from a GP confirming disability, a letter confirming receipt of DLA/PIP or the standard blue badge for vehicles which depicts the disabled person's name and identification. You can still take out membership via the internet or over the telephone on 01962 777960 but the "with carer" element will not be added to the membership card until proof has been seen at the Membership Office. You are only required to provide this proof once a year upon taking out or renewing your membership.
My child has reached the age of three and I am part way through my membership, what should I do?
Children must be paid for once they reach the age of three regardless of whether it's a day entry ticket or an annual membership. If you wish to join your child as a junior member when they turn three, they can be added on a pro rata basis at a pro rata price to bring their membership expiry date in line with your own.
Wild Explorers' Club
Don't forget if you're a junior annual member to attend our FREE Wild Explorers' club in the Science & Learning centre in the zoo for fun, informative sessions around wildlife and conservation. The sessions book up very quickly so be sure to book well in advance!
What should I do if I lose my card?
Please ensure you bring with you proof of address such as a drivers licence. Don't worry, it's only £2.50 for a replacement. Please call the membership team in order to replace your membership card.
When will I know that my membership is due to expire?
About a month before your membership is due to expire we will post out a renewal notice with different payment options for you to choose from. If we have your correct email address, you may receive notification via email.