Your children will love a trip to Marwell Zoo!
With a range of enclosures to visit, allowing your little ones to get up-close-and-personal with some of the world's most endangered and exotic animals, they're sure to learn something new.
Your day out with the kids in Hampshire can be an educational experience, they'll discover something new, but there's so much more fun to be had at Marwell.
Children from ages 0-14* will love letting off some energy as they hop, skip and jump at the adventure playgrounds. Offering respite for children and adults alike, with refreshments situated close by for well-deserving parents, picnic benches and ice cream stands are never too far away, allowing you to all have a well-deserved break from your busy day out.
*Find out which one is right for your child in the list below
Strategically placed (for coffee)
After a morning exploring the enclosures, grumbling tummies may well be in the need for some snacks. Fortunately, we have lots of tasty options for you to enjoy, so pop into a café, lay out a blanket or perch at a picnic bench to dive into your dinner. After refuelling, kids will love that an adventure playground is never too far away. Under 12's can sway in the breeze at our Life among the Trees park and your youngsters will love waddling like penguins at Penguin Cove, ideal for those under 6. Our Okapi playground is equipped with climbing nets, net tunnels, a basket swing and slides, the bespoke playground was designed to be inclusive and also features a wheelchair accessible roundabout and an accessible slide, so all children can safely play. Ideal for children aged 6 – 14.
Swing, climb, run, slide…
Children can swing like lemurs, climb like monkeys, run like cheetahs and slide like penguins at one of our 5 adventure playgrounds. Although parents must play a supervisory role, there is plenty for them to do too.
Our adventure playgrounds are perfect for your little monkeys, they're also sensibly placed around the zoo. With refreshments nearby, during busier times of the year it is always possible to grab a cup of tea or coffee.
Suggested ages for play
There are five adventure playgrounds situated across Marwell Zoo. Find out which one is right for your child below:
| | |
| --- | --- |
| Playgrounds | Age group |
| Fur, Feather & Scales | 4-10 years old |
| Fur, Feathers & Scales (for the little ones) | 2-6 years old |
| Life Among the Trees | 6-14 years old |
| Penguin Cove | 0-6 years old |
| Okapi | 6 – 14 year old |
| Wild Explorers | 6-12 years old |
Just in case…
Accidents do happen; however, we always have qualified first aiders on site. For first aid or emergency assistance please call 01962 777983, use one of our free emergency telephones at the playground or speak to a member of staff. Our mobile first aiders have a defibrillator (AED) and there's also one in our gift shop, where we have a first aid room too.
P.S. Watch out for the slides in the playgrounds and the loveable bronze hippo statue which can get hot when it's sunny!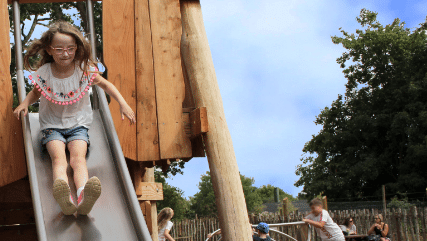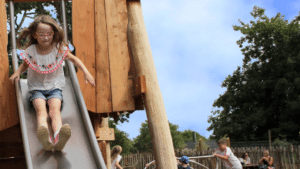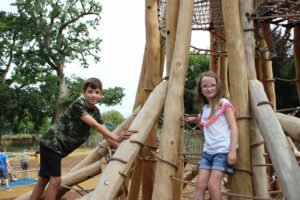 Picnic areas

Ice creams

Cafe

Toilets

Baby changing
We loved visiting the zoo.but more could be in place for disabled visits
While we enjoyed our tri we were disappointed at the lack of nappy changing area…
Trusted customer – 5 hours ago
Staff very polite and helpful
Wanted more interaction with the animals but still had a great day. Kids were ve…
Fantastic family day out
We love Marwell, we are members and I find it amazing value for money and it's…
Trusted customer – 7 hours ago
Fantastic day
Fantastic day as usual. Wonderful grounds to walk around. Excited to see new add…
Excellent as usual
Value for money, great experience and excellent facilities for animals and visit…
A fun-filled day out.
My grandson loves to visit the zoo. Last time, the ostrich eggs still hadn't h…
very well run park
Excellent well laid out wildlife park with great professional employees
Trusted customer – 17 hours ago
Great day out
Excellent day out for all age ranges. Facilities were clean and staff were frie…
We all had a fantastic day. Thank you Marwell
We all had a wonderful day, the Lego dinosaurs were amazing. The zoo was very cl…
Great day out
Another great day at a wonderful place!
All staff very knowledgeable,welcoming and very friendly
From start to finish staff were very knowledgable,welcoming and friendly nothing…
Trusted customer – 1 day ago
Fun filled zoo with added extras. Animals, Lego dinosaurs, great family day
Marwell is always a fun filled day out. Animals galore and Lego dinosaurs. Great…
Very enjoyable
One of the best zoos we have visited. Spent approximately 6 hours wondering arou…
Wonderful relaxing place to visit
Had a lovely enjoyable day at the zoo.Everywhere very clean and tidy. Had lunch …