Corporate Engagement Days
With our Corporate Engagement Days, you and your team can join Marwell Wildlife at our 140-acre zoological park in Hampshire for your next team awayday. Experience a range of benefits from developing new skills together, to supporting our conservation mission.
Spanning across multiple teams within the zoo, our Corporate Engagement Days are great for team building and are guaranteed to get you outdoors and closer to nature.
Activities range from planting new trees to eliminating invasive species or problematic plants, re-landscaping animal paddocks or creating winter food stores. The activities you and your team undertake will depend on the time of year, weather, access, and site conditions.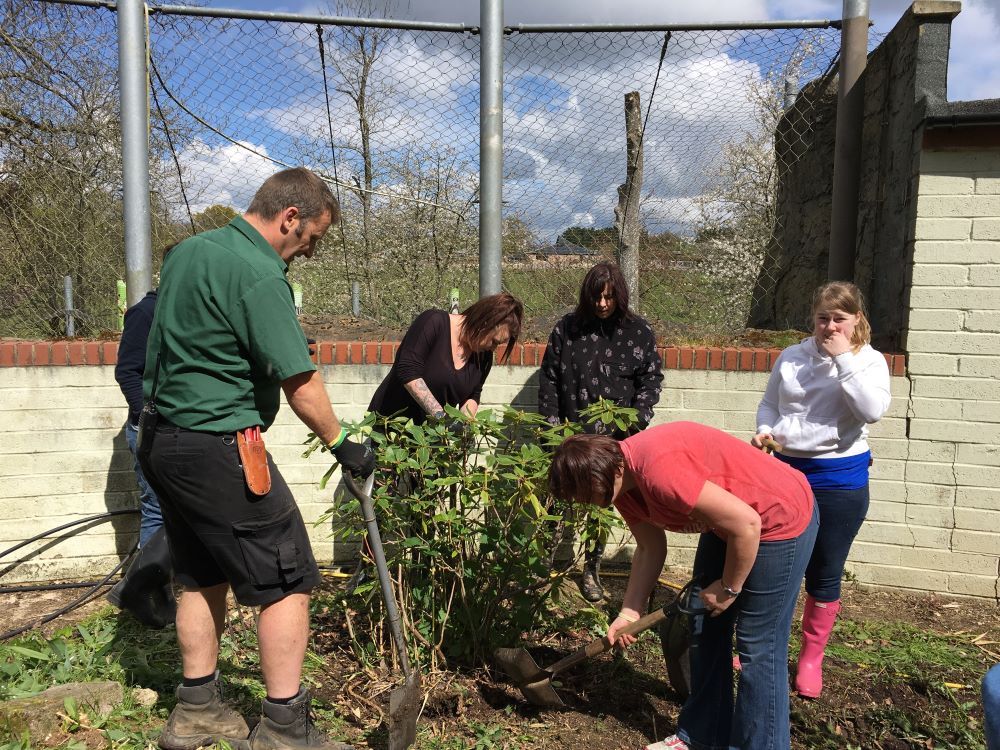 What you can expect
Regardless of which department you are working with, we offer a unique setting for your Corporate Engagement Day. Plus, with time to spare at the end of the day, you'll be welcome to take a wander around the park and discover some of incredible species that call Marwell their home.
Corporate Engagement Days are available for 6 to 12 people, although at times, we may have some scope for a slightly larger group.
What we promise to provide
A copy of our Public Liability Insurance
Risk assessments for the activity
First aiders
Knowledgeable and experienced staff with a passion for animal care and conservation
All the necessary equipment, training and supervision to deliver the activity
Access to facilities, including toilets
Want to know more or ready to make a booking?
Please email our Education Services Manager, at education@marwell.org.uk
Benefits of a Marwell Corporate Engagement Day to your business:
Improve team dynamics and forge long lasting relationships with your team.
Build confidence and develop new skills by doing something outside of your usual day job.
Develop communication skills with your employees, especially with those who work in different departments/teams.
Gain a sense of achievement and reward on completion, knowing that your work has played a part in Marwell Wildlife's conservation mission.
Deliver on your Corporate Social Responsibility (CSR) and Environmental, Social and Governance (ESG) commitments.
Want to know more or ready to make a booking?
Please email our Education Services Manager, at education@marwell.org.uk
Pricing
Corporate Engagement Days are offered as part of our strategic corporate partnerships and as standalone days. For those businesses wishing to take part in a standalone day, we charge £75 per person (plus VAT).
Charging for our Corporate Engagement Days helps us to cover the cost of planning and delivering your day, including ensuring that your team has all the equipment that they need. Hot drinks will be provided and there are water bottle refill stations located throughout the park.
Hot or cold lunches can be provided for your team at an additional cost.
Want to know more or ready to make a booking?
Please email our Education Services Manager, at education@marwell.org.uk
Terms & Conditions
All Corporate Engagement Days must be booked in advance.
To confirm your day, we require a completed booking form identifying the number of people you wish to book for, along with a Purchase Order number for the full amount (no. of people x £75 per person +VAT).
14 days prior to the date of your Corporate Engagement Day we will send you an invoice for the full amount.
All participants are required to read the Clothing Guidelines and Risk Assessments in advance.
Any participants not wearing suitable clothing or footwear, as detailed in the Clothing Guidelines, may be unable to take part in the activity.

Marwell Wildlife has a limited number of safety boots available for those wearing unsuitable footwear.
Please note that we are unable to offer refunds for any participants are unable to take part due to wearing unsuitable clothing.

A cancellation fee will be charged according to the number of days' notice your give;

Cancellations made within 14 days of your Corporate Engagement Day are subject to 100% of the fee.
Cancellations made within between 15 – 30 days of your Corporate Engagement Day are subject to 50% of the fee shall be due.
Cancellations made with 31 days or more notice will not be charged

At the time of booking, you will be asked to confirm the number of people taking part in your day. Changes to the number of participants can only be made 31 days or more in advance. After this time, charges may be applied in line with the cancellation terms (above).
Corporate Engagement Days are very occasionally cancelled, normally due to extreme weather or unforeseen site management issues. If this is the case, you will be notified as soon as possible before the day, and we will suggest a date to reschedule. Wherever possible, we will always seek to reschedule days. If we are unable to reschedule your day and an invoice has already been raised, a credit note shall be issued.
Corporate Engagement Days offer no direct contact with the animals.
Want to know more or ready to make a booking?
Please email our Education Services Manager, at education@marwell.org.uk