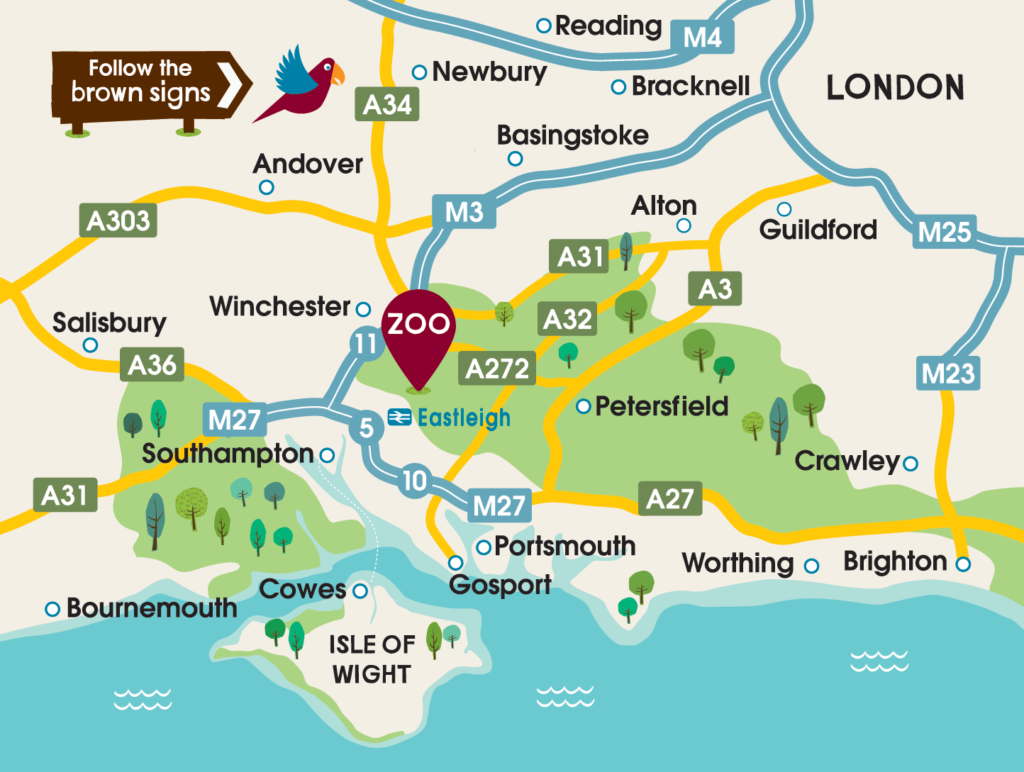 Get closer to the wonders of the natural world at Marwell Zoo
With plenty of outdoor space, and a whole host of animals and activities, Marwell Zoo is a great family day out in Hampshire.
100s of animals – with giraffes, tigers, leopards, meerkats, penguins and more
140-acre park & 5 adventure playgrounds
Daily talks, animal feeds, cafés & gift shop
You'll need 4 hours if it's your first visit. Get our app or see what's at Marwell to make the most of your day.
Marwell is easy to find – 8 miles from Winchester, 5 from Eastleigh and 12 from Southampton. Our postcode is SO21 1JH.
Ticket Prices
We're a charity. By donating and gift aiding your admission today, you'll be supporting our conservation work. Thank you!
£19.00
£15.50
£16.50
Studentwith a valid student card
£16.50
£64.00
£44.00
£54.00
Studentwith a valid student card
£54.00
£17.09
£13.94
£14.84
Studentwith a valid student card
£14.84
Lovely place for the kids
Love marwell. As a member its local, always good for the kids and animals well l…
Trusted customer – 6 days ago
Lovely family day out!
Lovely day out! Lots to see and do with a toddler. Bonus seeing Santa too!
Love this zoo, animals are well looked after, staff are friendly, it's well ma…
Trusted customer – 1 week ago
Good visit to the zoo
We have an annual pass and popped to the zoo, weather was poor but got to see a …
Always a great visit
It's always a pleasure to visit Marvell such a mind full place so interesting…
Relaxing day out
Lovely day out at this well laid out zoo. Staff helpful and polite . Safe for ch…
Trusted customer – 1 week ago
Amazing day out!
Amazing day out! My two year old absolutely loved marwell, he enjoyed watching a…
Nice day out with grandchildren
Yes I would recommend it for a good day out
Trusted customer – 1 week ago
Lovely Festive Visit to Marwell
As an added bonus we had lovely dry sunny weather for our day at Marwell. It was…
Coming back soon
Ease of booking, tidy areas, shelter, animals looked well cared
Great Place
Great place to visit and a lovely day even in the rain. Seeem to be sorting a lo…
Perfect December day out
Staff were lovely. Penguins delightful and entertaining. Loved by my grandson. S…
A fabulous zoo and a great day out.
An excellent day out as always at Marwell. I love the conservation aspect of the…
Parma wallabies and coppery titi monkeys
My son was thrilled when he spotted 2 new species at the zoo (even though the en…
Trusted customer – 1 week ago
Super day even though the weather was poor
Had a lovely visit even though the weather was poor. Zoe the okapi keeper was v…
Trusted customer – 1 week ago
We have a annual pass and enjoy taking our little one every few months. This was…
Tiger
We saw the tiger for the first time what. Lovely animal
Trusted customer – 1 week ago