7 day return tickets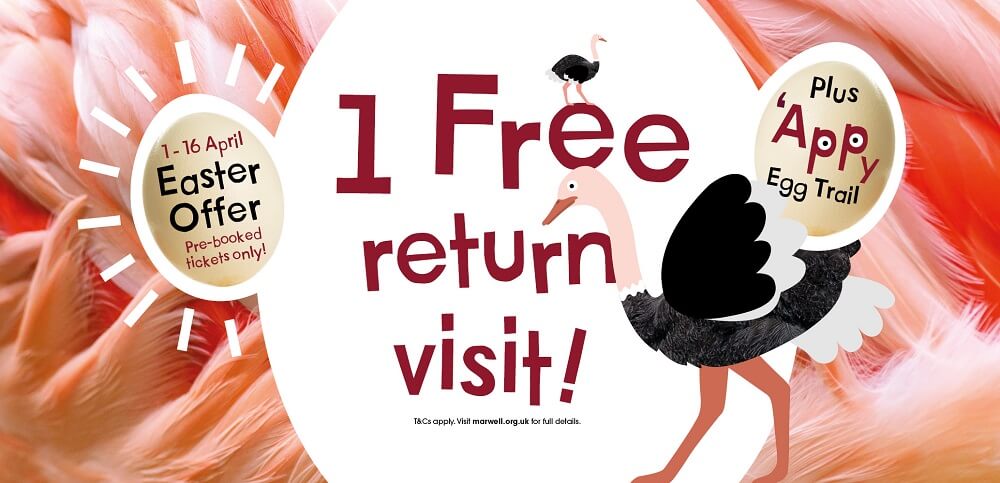 *This offer ran during Easter 2023*
We're hoping to help make the pennies go a little bit further this Easter thanks to the return of our free return visit incentive.
Every ticket bought in advance for a visit between 1 and 16 April will also entitle guests to a free return visit within seven days, giving you twice as many reasons to visit the zoo!
This fantastic offer means that if the spring weather doesn't quite live up to expectations or your little ones can't quite make it around the whole 140 acre site in one day, you can take your time, come back another day and do all of the bits you missed the first time.
Whether you're planning a week of fab days out from your home or 'staycationing' in the area, we're sure you'll have a great time meeting our beautiful animals and exploring the stunning surroundings.
Free return visits double your chances of seeing some of our more elusive animals, visiting all five adventure playgrounds and, of course making the most of our stunning picnic spots and food outlets.
This offer is only available to guests booking their tickets in advance via our website at www.marwell.org.uk and is valid for one return visit within the seven day period.
Marwell Wildlife owns and operates the zoo as well as funding conservation projects around the world.
Please note that terms and conditions apply and can be found online. This offer does not apply to gift tickets, special tickets or advanced bookings of more than 50 tickets.
What's in store…
Marwell zoo is home to hundreds of threatened and endangered animals including clouded leopards, meerkats, all three species of zebra, rhinos, tigers, a sloth and so much more!
Our Energy For Life: Tropical house has reopened, and our walk-through aviaries are a hive of activity as our resident birds weave their nests.
Don't forget to pay our Okapi a visit in their house (between the tiger enclosure and tropical house) and if you're lucky you might spot some of our new arrivals.
Our baby saki monkey, is now enjoying climbing all over his parents and our Critically Endangered addax and bongo calves are gaining in confidence.
Don't forget to download the free Marwell Zoo App for an interactive park map, animal feed times, offers, competitions and lots of extra animal facts.
Easter Trail
We're also running our 'Appy Egg Trail over the Easter break giving guests the chance to win annual membership for themselves and their family – only on the app!