Bluey, Bingo and Hey Duggee are coming to Marwell Zoo!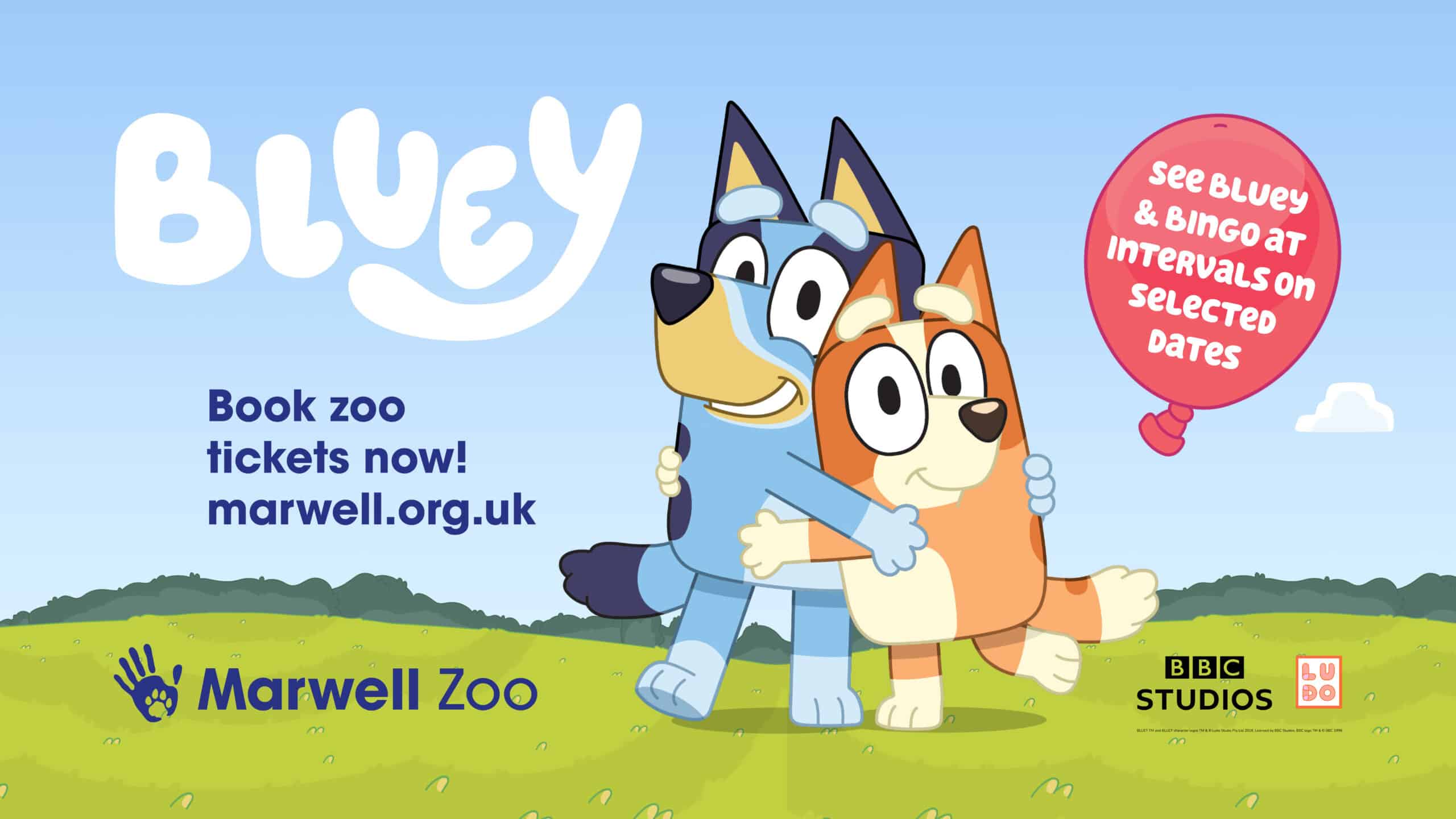 We're excited to welcome three CBeebies favourites over the summer with special Thursday Fun Days throughout the school holidays.
Bluey and her little sister Bingo, from the much-loved children's TV show Bluey, will be visiting the zoo on 27 July, 10 August and 24 August.
Hey Duggee, a favourite with children and adults alike, will be taking a break from running Squirrel Club to visit to Marwell on 3 August and 17 August.
Join the playful characters for their story time sessions at intervals throughout the day (11am, 12pm, 1pm, 2pm and 3pm.) Don't forget to bring your camera!
The characters will have a designated appearance arena on the back lawn of Marwell Hall to ensure as many guests as possible can see them on a first-come first-served basis. Please be aware there will be limited capacity so if it is particularly busy, come back later.
Bluey and Bingo are two loveable and playful siblings. The two young Heeler dogs, along with their family and friends, embark on imaginative adventures and learn important life lessons along the way!
Hey Duggee is the leader of the Squirrel Club, where children can earn badges for new skills and experiences.  We hope he'll have lots to tell the Squirrels about when he returns from his own zoo adventure!
Nicky Cole, Senior Events Manager, said: "We couldn't be more excited about welcoming Bluey, Bingo and Hey Duggee for our Thursday Fun Days over the summer holidays! We just know you and your little ones are going to love seeing your favourite TV stars and joining in all the fun at the zoo with us."
Guests must prebook a daytime zoo admission ticket and members must also prebook their free ticket online ahead of their visit as we expect these dates to be particularly busy and there will be limited capacity.
We will be unable to allow anyone entry who has not prebooked on our website for those dates including members, under 3s and free carers. All other ticket types such as complimentary and third-party tickets will not be valid. Tickets will go on sale on Monday 10 July. 
Marwell Zoo covers 140 acres with hundreds of exotic and endangered animals, five adventure play areas, cafes and ice cream stops.