BRICKOSAURS! Evolution is coming to the zoo in 2022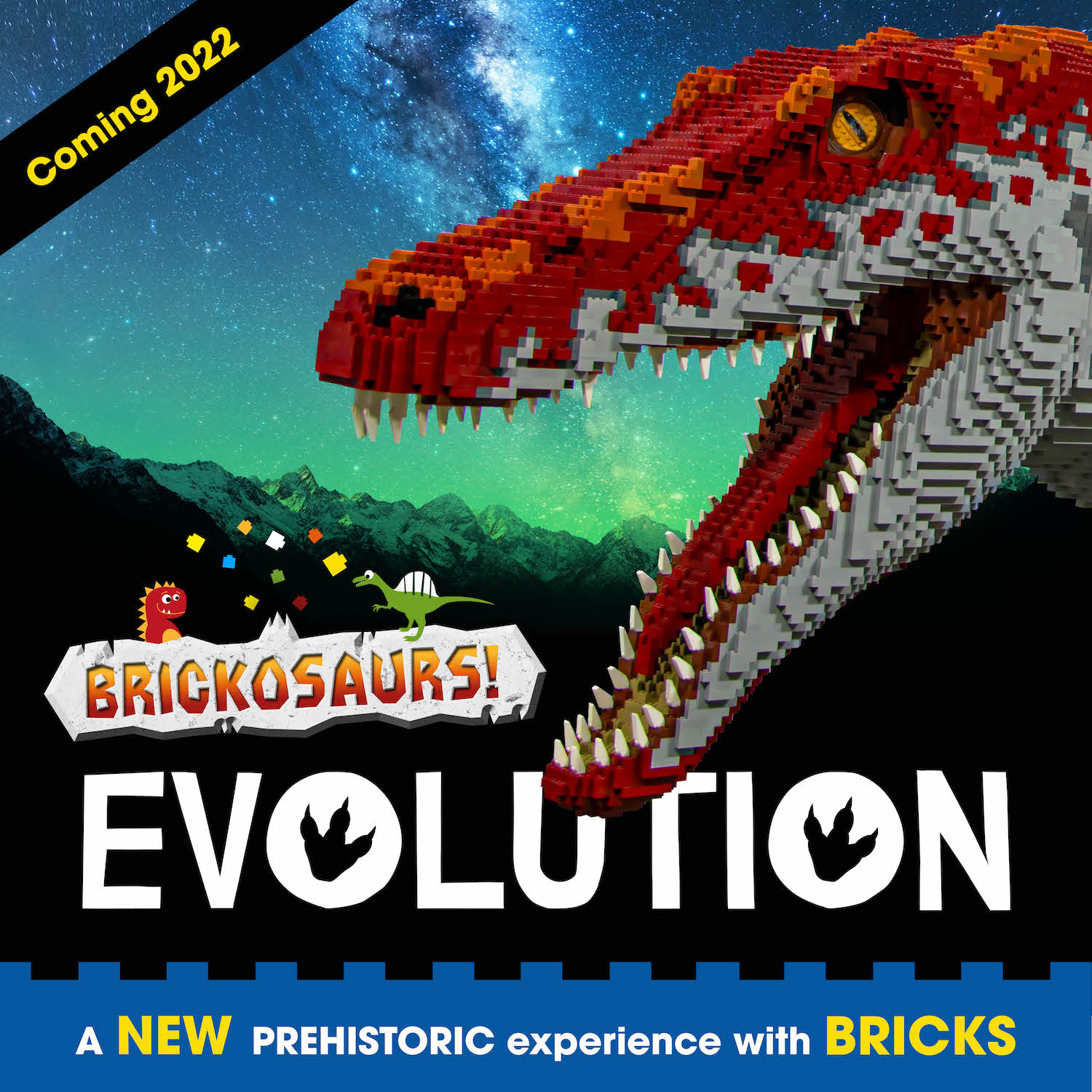 We are excited to announce that BRICKOSAURS! Evolution, the world-first event featuring an all-new collection of 55 dinosaur sculptures, will be at Marwell from next Spring. 
BRICKOSAURS! Evolution showcases over 20 species made using more than 2 million toy bricks and will leave you in awe as you embark on an immersive adventure through the zoo. 
The interactive expedition, which is on display alongside our hundreds of resident endangered and exotic animals, is sure to excite families, toy brick, and dinosaur enthusiasts alike. 
Go back in time and come face to face with amazing prehistoric creatures such as the incredible seven-meter-long Spinosaurus, a nodding Heterodontosaurus, and a huge Mosasaur emerging from the water. 
Enthusiasts will be able to test their knowledge along the trail with a host of fascinating dino facts and build stats at every turn.
There will be plenty of photo opportunities too, including a sit-in Carnotaurus, a giant dino egg, and the chance to get up close to nine adorable baby dinos. 
At the Fossil Zone, kids both big and small can literally walk in their favourite dinosaurs' footsteps on the fossil pavement, plus prepare for a few surprises!
The event will take professional builders at Hampshire-based workshop Brick Live International more than 9,000 hours to complete.
Sean Mannie, Commercial Director at Marwell Zoo, said: "We're incredibly excited to announce that dinosaurs will once again be returning to Marwell Zoo with the all-new collection, BRICKOSAURS! Evolution next year, which also marks Marwell's 50th anniversary.
"These incredible sculptures, on display around our beautiful 140-acre park, will be immersive, educational, and bursting with colour, plus there will be lots of fun and special touches to give it the 'wow factor.'  
"I have no doubt BRICKOSAURS! Evolution will make Marwell a 'must-see' family day out for 2022 as families look for exciting new adventures to share, and we'll be unveiling more details soon so watch this space!" 
The event follows the roaring success of toy brick adventure BRICKOSAURS! In 2019 and SUPERSIZED! in 2020. 
BRICKOSAURS! Evolution is included with general admission to the zoo and will be on display from 1 April until 4 September 2022. The zoo is owned and operated by conservation charity Marwell Wildlife, so every penny spent with us supports amazing projects to conserve habitats and species both in Hampshire and around the world.
Follow our social media for the latest news and updates!