We welcomed a mountain bongo calf!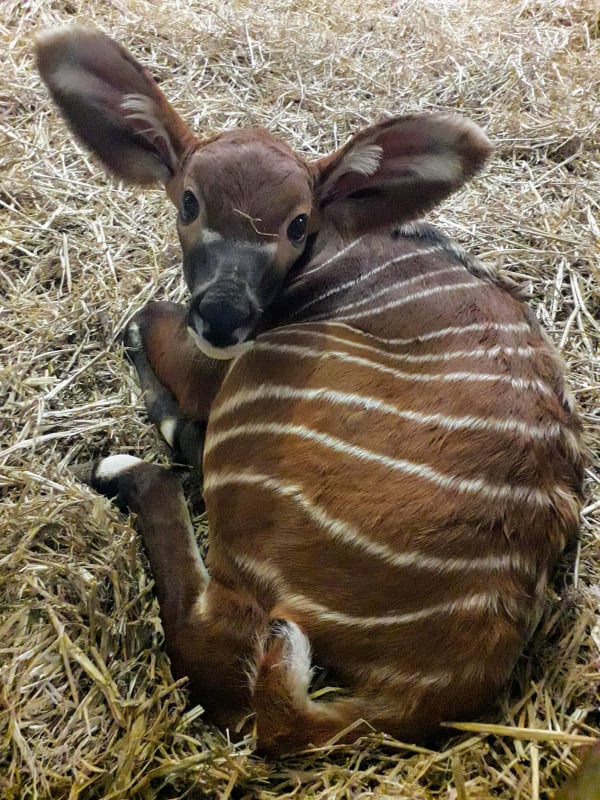 The calf is an exciting addition to Marwell, as this species is critically endangered in the wild.
A critically endangered mountain bongo calf was born at Marwell at around 6.30 am on Wednesday 10 June.
Born to first-time parents Canela (mother) and Ituri (father), keepers report Canela has been very attentive from the moment it was born. The calf is settling in well and is "very strong, lively and loves to run around their hardstand".
The two-week-old youngster is yet to be named, but keepers have confirmed he is male. He has a bright chestnut coat and huge oversized ears.
In the wild, mountain bongos face many threats, including from hunting with dogs and loss of habitat due to illegal logging. They are also threatened by diseases from domestic cattle, which can pass to the bongo.
A number of measures have been put in place to conserve mountain bongo. As well as captive breeding programmes in zoos such as Marwell, conservation efforts include a research program and Bongo Surveillance Program to provide more information about the bongos and their habitats.
Last year, we also celebrated the birth of female mountain bongo, Ada.
Our mountain bongo can be found in their paddock behind our giraffe house. Their indoor house is currently closed to guests.